Paint protects a surface, and we eventually apply paint to protect a surface and make it good-looking and smooth. But did you ever notice that you cannot paint everything successfully, especially walls? After a few times, the paint starts rubbing off. We don't expect such a result, but it happens to all of us. This problem is most common in the case of spray paint, and clients always ask how to keep spray paint from rubbing off.
There are two good things we have found about spray paint. The first one is it is easy to use and doesn't require an extra brush. The second one is spray paint requires less time to complete.
Ask anyone about it. Everybody will agree with us. But the problem is it is rubbing off soon, which is not expected. In this article, we are going to answer this question.
Table of Contents
What is Spray Paint?
Spray paint is much paint that is sprayed from a can. It offers excellent coverage than a brush or stroke paint. If you compare its painting speed with brush paint, then you are a fool. Spray paint is thousands of times faster than brush paints, or maybe million times. Because of that tremendous speed, painters use this paint everywhere without walls, ceilings, and canvas.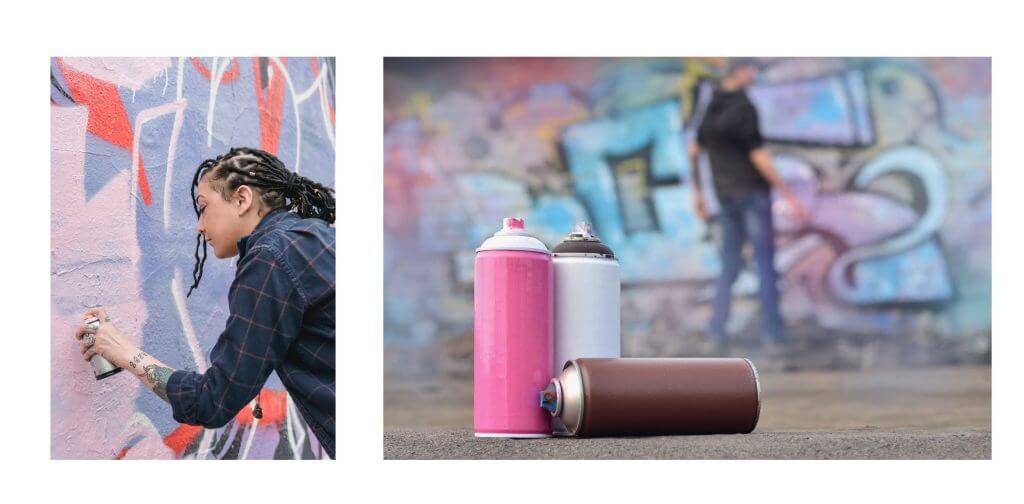 Spray paints are not available for ceiling paint. And you need a sound painting system to paint on canvas. Spray paints are not fine like brush or stroke paints. It spreads over a huge area as soon as it is sprayed. 
The advantages of spray paints are given below. You can consider these advantages as its characteristics.
Provide massive coverage than all painting systems.
Super-fast paint capability.
Generally, oil-based paint and stable than water-based and latex paint.
Easy to use on surfaces.
Dry faster than other paints.
Easy to clean.
Spray paint is a suitable choice to paint over metal, plastic, wicker, etc. it is appropriate for painting on large areas, not delicate areas.
Why Is Our Spray Paint Rubbing Off?
Spray paint comes out through different types of nozzles offered by different brands. Nozzle means that the paint comes out from the tip when spraying. There are several variations of this nozzle. The best nozzle is the 220 mesh. Most brands use 80 to 120 mesh tips. You don't need to overspray your surface much if you have this high number of nozzles. Also, the paint will stick better to the surface.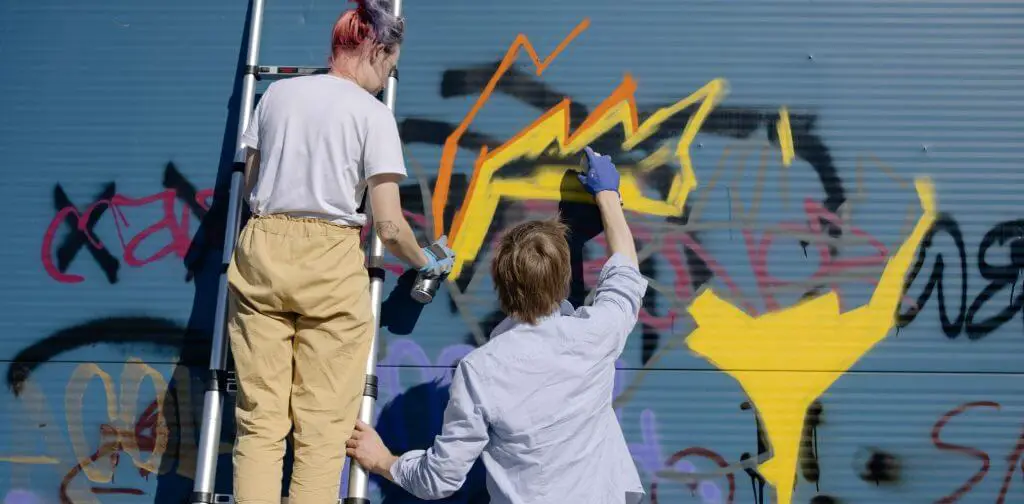 So, what is the conclusion about these tips? If you have a small number of mess spray tips and you do not overspray the surface as needed, the spray paint will rub off. There are some other reasons also.
Applying spray paint over lacquer paints causes the spray paint to rub because lacquer paint is less elastic.
Every painting surface requires proper sanding. If you miss it, then not only spray paint, every painting will starts coming off.
Spray paint is scratching off when dirt and debris are present on the surface.
Using spray paint over the wrong paint or coat can also cause the paint to rub off.
Here, we can maintain things like coating, caution about lacquer paint, etc. But the problem comes when we don't know which type of paint is unsuitable for spray paint. Today's paint brands offer dos and don'ts on their product labels. You will find details of everything there.
How to Protect Spray Painted Surfaces from Rubbing Off
Now, we will give you some tips to protect the area or surface where you have applied the spray paint. Remember, you cannot paint everything 100% successfully, whether spray paint or brush paint. So, take the necessary steps to solve the problem without tension. 
Now, carefully look at the tasks to stop spray paint from coming off.
Seal the surface properly before applying spray paint.
Don't apply spray paint over a dirty surface.
Sand and clean the surface until you feel maximum smoothness.
Do not spray on any paint that does not stick to the spray paint.
Don't use low-quality spray paint.
If you ensure these four things to paint a surface using spray paint, you can ensure that the paint won't rub off. 
How to Use Spray Paint to Keep It from Rubbing Off
It would be best if you understood how to keep spray paint from abrasion. You need to apply the spray paint properly, so it sticks to the surface and does not scratch easily. So, here are some suggestions from us for sealing and painting. Hopefully, you will follow them.
Priming or sealing is significant before using paint. Since spray paints are oil-based paints, not all types of primers work well with them. It would be good for you to choose an oil-based spray primer. Or you can choose a brush-over type sealer. This combination works well. We have an article about epoxy primers, which markets one of the best primers. You can check it out.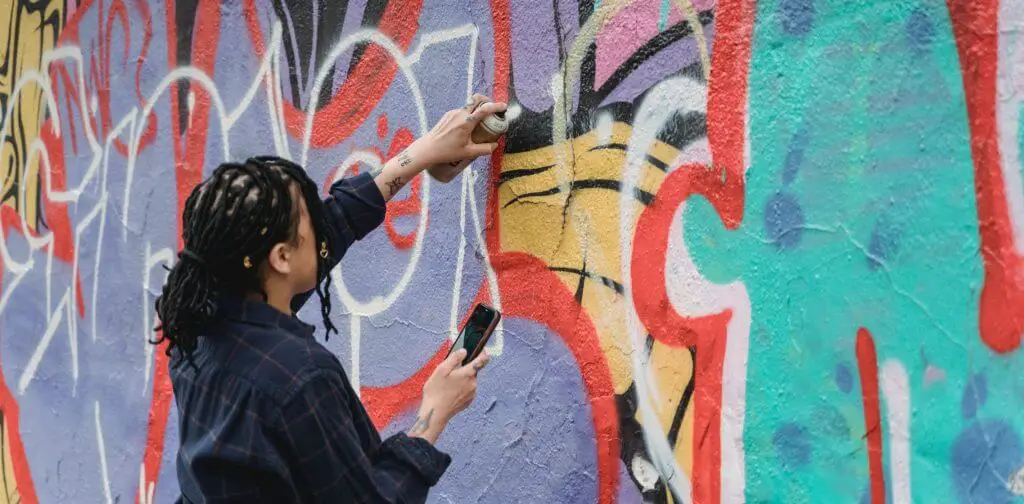 Besides priming, you have to take care of painting properly. If there is a shortage of spray paint coat application, the color will not look good on the surface, and the paint will start coming off. Tips for applying spray paint –
Clean the surface with a soft rag.
Shake the spray paint well for a few minutes.
Block the areas with painter tape or paper where you don't want to apply spray paint.
Pass even left to right above your substrate from about 12 inches.
When you finish the painting project, turn the can upside down and hold down the nozzle to spray away from you until gas comes out of the can for the propellant. We have a complete article about painter tape so that you can keep paint from bleeding under tape. In addition to blocking areas, you can do much with the tapes discussed in that article.
FAQs
What can you apply over spray paint to protect it?
You can apply Polyurethane, Polycrylic, clear topcoat, and glazes to protect spray paint and all types of paint.
What is the best spray paint?
Can I use a clear coat to protect spray paint?
Absolutely you can. A clean coating makes the surface brighter, significantly improves its aesthetics, and makes it easier to maintain.
Final Word
We try to give you the most straightforward tips and advice to protect your spray paint. If you read our article carefully, you will know how to keep spray paint from rubbing off. Most tricks are pretty easy and familiar for those who paint regularly. To pick the best spray paint, go to your closest hardware or paint shop or search online. You can buy our recommended spray paint also.
I've been a painter for over 15 years, and I started this website to share my knowledge and passion for painting with others. Throughout my artistic journey, I have immersed myself in various mediums, techniques, and styles, continuously exploring new avenues of expression. Immerse yourself in the world of art as I guide you on an exploration of creativity, self-expression, and the limitless possibilities of painting.