Many of us know about soft pastels. They come in stick form, made from pure pigment and a sturdy binder. Soft pastels are easy to use than hard pastels. We will talk about it in detail. There is a question people are always asking about soft pastels is that can I paint over soft pastels? You don't need to search hundreds of articles for the answer. You can paint over pastels.
You have got the answer. Still, you need to know how to paint over soft pastels. Pastels are a great source to simplify your painting work. It is a medium of multiple characteristics. When you know the proper way of utilizing it, you can make the best creative art.
Table of Contents
Types of Pastels
There are generally five types of pastels. These are pigments in the form of sticks, but there are differences in how they stick together. One good thing about pastels is that they are compatible with each other. Here are five types of pastels –
Soft pastel.
Pan pastel.
Hard pastel.
Oil pastel.
Pencil pastel.
Soft, hard, and pencil pastels are bound with a resin binder. That's why they are compatible with each other. Oil pastels have an oily texture because they are secured with wax. Since the surface is different, you cannot mix them with other pastels.
This article will target only soft pastels. We will talk about other pastels in another article. We provide many articles about car painting. If you have enough time, you can check how gasoline damage car paint. It will help you to save your car paint from gas or gasoline.
What Are Soft Pastels?
Soft pastel is the ultimate learning tool for beginners. Every technique in the industry you can master yourself using soft pastel. You just need a proper guideline. Though there are different types of pastels, soft pastel is the most user-friendly. It contains more pigment and minor binder than hard pencils and pastels.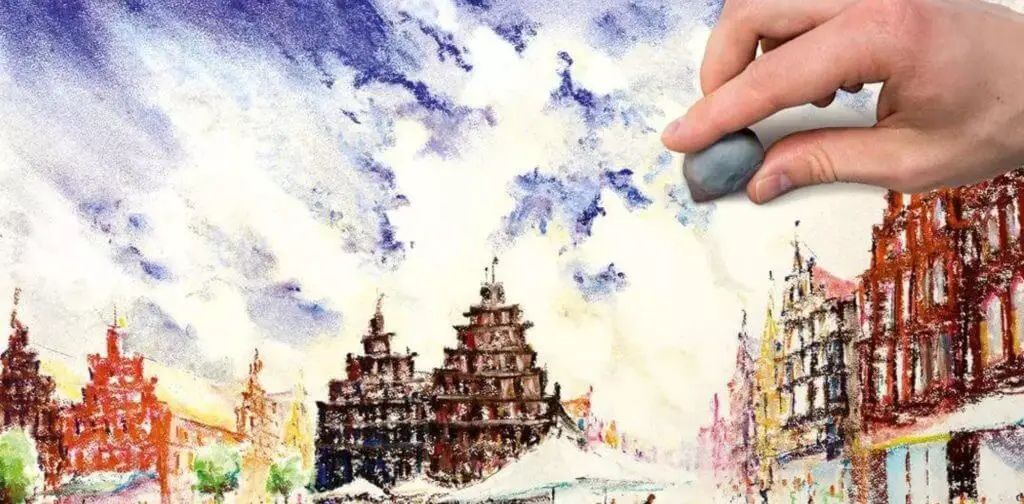 It provides a wide array of bright colors to the users to create every colorful, eye-catchy masterpiece. You can call it a versatile choice for both beginners, mid-end, and top-end experts. It allows you to explore a multitude of techniques with plenty of scopes.
It offers up to 500 colors which are more than other pastel types. It is suitable for blending, layering, and painterly effects on every color of its fragile consistency and powdery texture. We don't prefer it for detailed works. A pencil is a suitable choice for fine work always.
Can You Paint Over Soft Pastels?
A soft pastel is a great tool for painting. You can apply paint to it. You can cover it in oil paint. Oil paints will go smoothly, wet the pastel, and easily create new colors without problems. We had tried something like this a few days ago, and the experience was good. What we get is oil paint works excellent with soft pastels. When we painted over the soft pastel, it acted better than a black canvas and dried quickly.
So, our experience says that you can paint over soft pastels with oil paint, even with watercolor. Most people have this knowledge, but some hesitate to mix two different items while painting. Remember, to learn to paint correctly; you must try every possible thing. It is not necessary to get a perfect result every time. When you are learning, every mistake is permittable.
So, if you choose soft pastel for your artwork is a great decision, and you can paint over it without any problem, if it is oil paint or watercolor.
Can I Use Acrylic Paint Over Soft Pastels?
Acrylic paint and oil pastel won't blend. If the pastel and paint don't mix properly, it will be a big problem at work. Acrylic paint is water-based paint. You cannot mix water and oil at any time. It is quite an impossible task.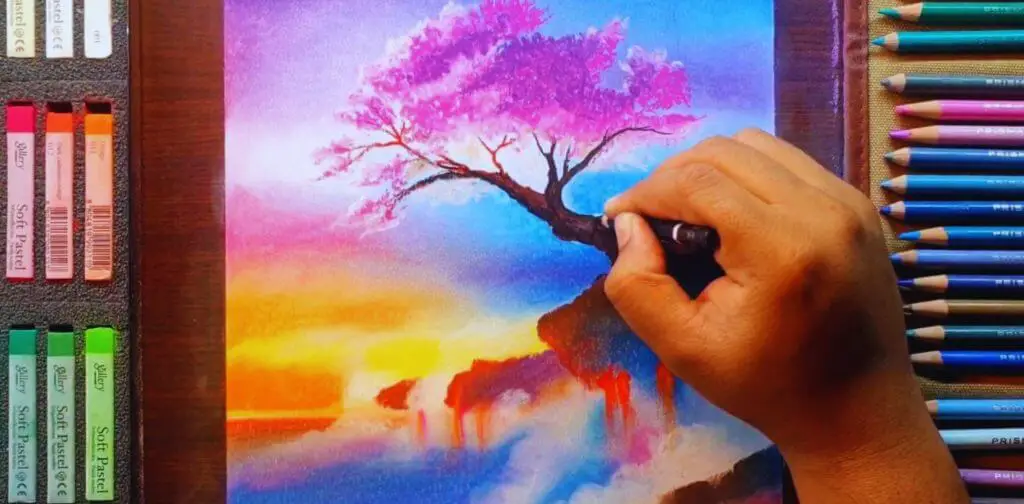 Soft pastel offers unique and versatile abilities. You, and can mix soft pastels with acrylic paints there will be no issue. But if you want to use acrylic over the soft pastel, then there is hope. But if it is oil pastel, we request you to think again. Also, acrylic paint brushes have a restriction on watercolor brushes. Click here to read it in detail.
How to Paint Over Soft Pastels?
Soft pastels give you total freedom to use them how you want. It ultimately depends on which technique you apply in your painting project. You can work lightly, give hard pressure or leave a different mark on your project. Since it is a versatile tool, we can utilize it in many ways.
So, you apply your own technique. We will show some procedures to make your job easier.
Apply light touch, increase depth slowly and mix unique colors to get enough space to work.
Choose different papers and pastels from other brands because it is widely available for a new experiment.
Apply different layers above one another without using millions of colors.  
Don't go extreme at the beginning. Paint and apply the layer slowly or lightly to go to the dark theme position.
Don't overmix color and pastel.
Take the help of some experts to blend paint and pastel properly. You need better creative experience to do that.
This part is like a guideline of painting over soft pastels to get better output at the first attempt. Besides, you can learn how to paint obsidian miniatures if you love to paint obsidian miniatures or know about obsidian stones.
FAQs
Can you mix pastel and paint?
Yes, you can mix soft pastels and paints perfectly in every stage of your artwork. But oil pastel and acrylic paints are not mixed because they contain water and oil.
Can you turn soft pastels into a paint?
Pastels have different characteristics. If you mix them, you can use them entirely differently. You cannot turn them into the paint.
Can you watercolor over pastels?
You can use watercolor over soft pastels. Applying pastel over dry watercolor and adding vivid pigment to the watercolor seemed to be a standard step.
Final Verdict
Picking soft pastel for the paintwork is quite a good decision. A painter can be an expert or a beginner; he will love to use soft pastel. Even it is a versatile learning tool for starters. You must keep a lot of factors in mind before painting over soft pastel. We have discussed every important topic about mixing soft pastel and paint.
Though you can paint over soft pastels, you must be careful using acrylic paint and oil pastel. Follow our guidelines to complete your project smoothly, and don't forget to store soft pastels while painting.
I've been a painter for over 15 years, and I started this website to share my knowledge and passion for painting with others. Throughout my artistic journey, I have immersed myself in various mediums, techniques, and styles, continuously exploring new avenues of expression. Immerse yourself in the world of art as I guide you on an exploration of creativity, self-expression, and the limitless possibilities of painting.