Painting through brushes is always the best way. It ensures a consistent result. Moreover, painting with a brush is much easier if the painting surface is small. Your working surface is small since you are asking about Gundam markers. Now, if you want to know the answer to what kind of paints are Gundam markers, then you have to know everything about Gundam markers. 
Gundam markers are not a single type of paint. They come with multiple types of paints. Are Gundam markers acrylic paints, oil-based paint, or enamel paints? It is a big question for a large number of consumers. If you are a genuine part of them, then take a cup of coffee because it will not be an easy answer.
Table of Contents
What Are Gundam Markers?
Gundam markers have created a new value as a weathering marker! With this marker, you can easily apply color and smoke effects with a realistic touch. Water-based paints are used for safety. It is used primarily to customize Gunpla. Gunplas are movable robot-type plastic kits inspired by the Japanese Gundam animated series. 
We are not going to talk about the whole Gundam animated series. It has a big story. Our topic is about Gundam markers, not about cartoon series. We need to add that this series is top-rated in Japan. So, they released various Gunplas in different sizes. But it is not famous worldwide.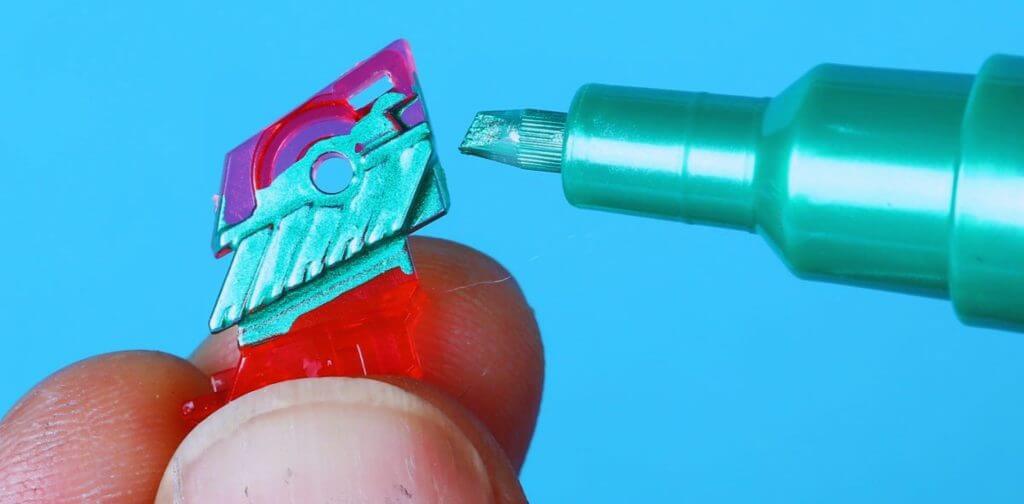 So, this article is helpful for Gunpla lovers. Gundam marker is an item to repaint your Gunpla quick and straightforward way. It is a paint pen like other markers filled with alcohol-based paints. When you open the mouth of it, you will see a nib. It will absorb the stain while you push it down. There is a ball inside the marker. When you shake the marker, the ball mixes the base in the pigment like regular paints.
We have been seeing it many times. They just added some new traditional colors to their list. So, there is nothing fancy to say about Gundam markers.
What is The Purpose of Using Gundam Marker?
Gundam markers are used to paint Gunplas. Gunpla artwork mostly depends on panel lining. Most beginners do have not enough idea about panel lining. It is a process of painting the grooves of each part. It will improve the look and detail of the Gunpla kit. You can apply panel lining to any kit you are working on. 
Every painting term has professionalism. You can use a brush or spray paint over Gunpla, but that won't be a professional choice. We are not saying that you can't make detail. You can but hand or spray paint is not the way of detailing Gunpla. Only Gunpla enthusiasts can understand this.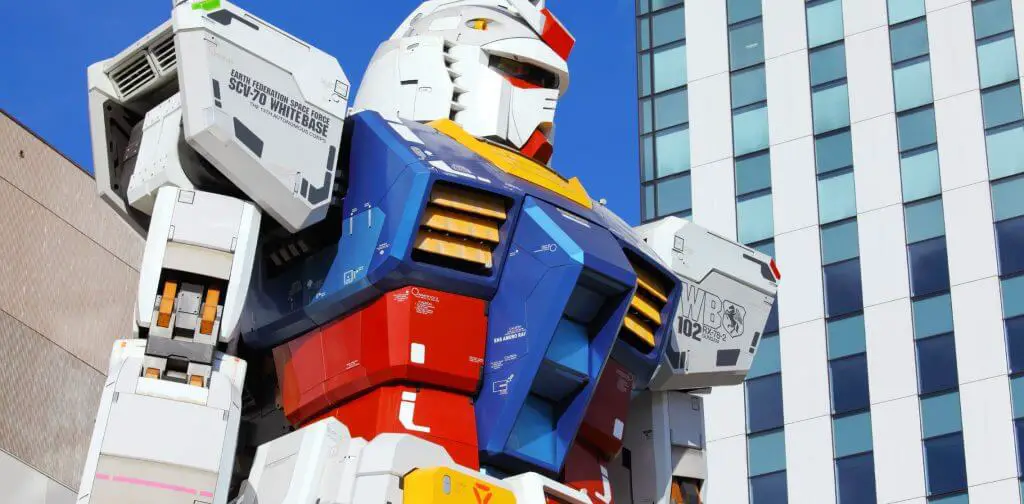 Panel lining is an essential task every beginner should start with. It is a primary skill they should earn first. To learn it, they don't require expensive tools. A panel lining Gundam marker and rubber pencil eraser is enough to do this job. 
By the way, Gunpla's preproduction starts with plastic. Plastic formulated paint is a suitable choice for you if you want to hand paint it. You can paint black plumbing plastic tubes with that paint.
What Types of Paints are Gundam Markers?
There are different types of Gundam markers in the market. From time to time, they announce new markers for the finest Gunpla panel lining. 
The most common Gundam marker is old GM01. It is the first ultrafine marker and the most popular one everyone picks. It comes with an ultrafine tip. It is used for lying panel lining. GM01 is available in three different colors; black, grey and brown. These are good for those who want to practice lining.
The next one is a flat edge tip Gundam marker. They come with the metallics for some reason. It helps to cover a larger area. The GM04 comes in different colors; blue, gold, etc.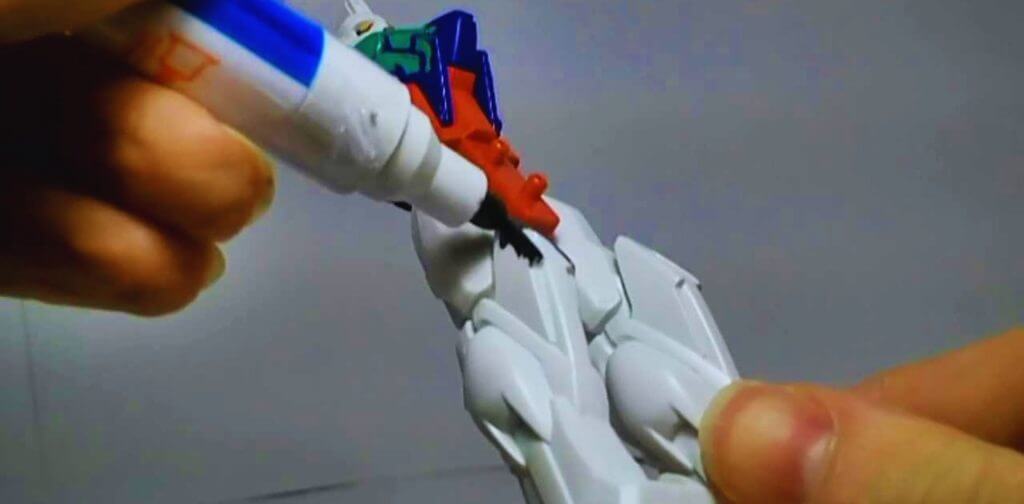 Lastly, we have the eraser pen. This Gundam marker is filled with isopropyl-like weak isopropyl alcohol. It erases the mistakes we make during painting. You have to use it very carefully. Most people misuse it, which can ruin your Gunpla model. So, you must know how to use it correctly. 
Which Paint is Used in Gundam Markers?
Gundam markers are smooth, alcohol-type paints that produce vibrant colors that help paint everything from large surfaces to tiny areas. Most Gundam markers include acrylic paints. Also, the base shades of the markers are acrylic. Some markers like Gm01 and Gm02 use lacquer paints.
Its fine tip is used for perfect panel lining on Gunpla. Panel liner is a thin enamel paint that flows easily in recesses. The fine print of the marker is designed to paint on plastic panels. So, the paint you get in the market is formulated for plastic elements.
Can You Use Top Coat on Gundam Marker Paint? 
When the painting is complete and ensuring every detail, you can top coat on your Gunpla model kit. The top coat helps to protect the color of your model. It is a required method every painter must apply in their project to protect the surface and clear the paint. 
Some may say we are accustomed to clearing coats on the car's surface, not plastic. For such information, a clear coat or top coat is also used on the bike's surface. And today's most budget-friendly bikes come with a plastic body. So, you can't make an excuse because your GunPla model has a plastic body.
FAQs
Are Gundam markers the best choice for Gunpla?
If you are an expert in painting Gunpla kits, you should find some alternative Gundam markers. The reason is that it cannot provide the mark experience to the users. For beginners, Gundam markers are best to learn panel lining.
How long does it take to dry panel liners?
After applying panel linings, you should wait a few hours. If you draw any accidental lines, you can clean them within 10 minutes using a Gundam marker eraser pen.
What is the best alternative to Gundam markers?
Suppose you don't prefer Gundam markers and looking for a better alternative. In that case, COPIC Multi-Liner could be a good choice because we have seen many users recommend it.
Final Word
Designing Gunpla model kits is not a job; for many people, it is a hobby or passion. To fulfil this passion, you must know what kind of paint is used in Gundam makers. We have highlighted the details of various Gundam markers and their paint type.
All in all, we try to give you a comprehensive guide. If you find this article helpful, share it with others so they can learn about Gundam Marker.
I've been a painter for over 15 years, and I started this website to share my knowledge and passion for painting with others. Throughout my artistic journey, I have immersed myself in various mediums, techniques, and styles, continuously exploring new avenues of expression. Immerse yourself in the world of art as I guide you on an exploration of creativity, self-expression, and the limitless possibilities of painting.