A PVC pipe is ideal to use in various projects ranging from wall-mounted organizers and funky herb planters to wine racks and lighting. These plastic plumbing tubes are durable and easy to cut. These are made for plumbing. You may notice that property owners don't want to let the pipes visible uncolored. They love to expose the lines, including the home color-coding system.
Besides that, there are many reasons to paint plumbing pipes. So, we will teach you to how to paint PVC pipes. Many ask us if they can paint black plumbing plastic tubes or not. Black plumbing tubes are transformed into another color easily. That blends with your décor.
Table of Contents
What Kinds of Paint Do You Use in PVC Pipe?
In most PVC pipe coloring methods, painters use epoxy-based paints. Some PVC pipes don't require painting, whereas many prefer plumbing-grade PVC pipes for their houses and store. People say that these pipes are solid white, which is wrong. PVC plumbing pipes are white but not solid white. Solid white and pure black colored PVC pipes are rare.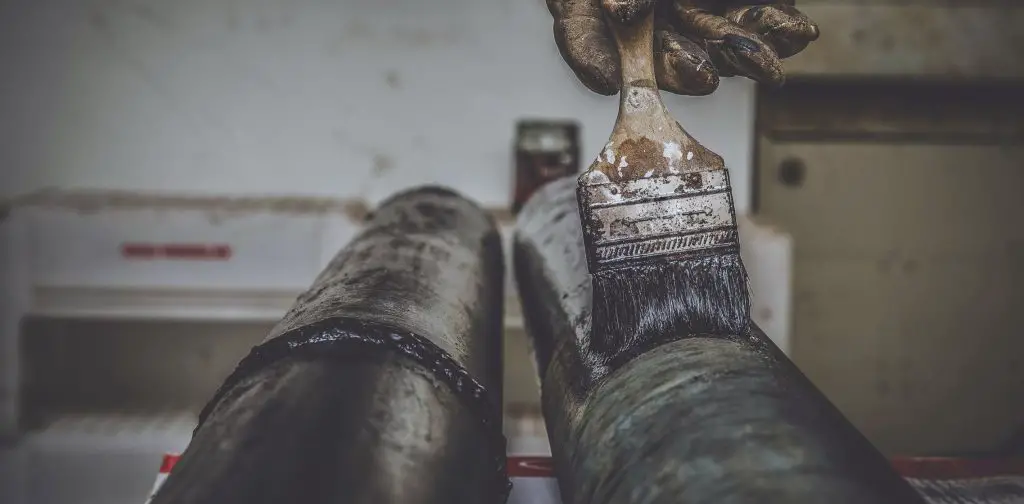 If you do not know about epoxy-based paint, choose a plastic color for plastic tubes. To find plastic paints, you don't require extra knowledge about paints. Krylon is a famous paint brand. Their Krylon Fusion is one of the finest plastic paints. Rust-Oleum also makes great plastic paints. Click here to know more about Rust-Oleum. So, you can also use Rust-Oleum plastic paints in PVC pipes.
Can You Paint Black on Plumbing Plastic Tubes?
You can paint black on PVC pipes. Not just black, any color applies to plumbing plastic tubes. Enamel oil-based paints are the perfect choice for pipes over primer. People may think that metallic paints only work on metal pipes. This is a misconception. Many metallic paints provide a colorful metallic texture on plastic tubes.
Since you need to apply paint and primer, ensure both items fit with your painting project. Black is a good choice for hiding pipes with some extra paint. Painting PVC pipe seems to mask them to hide from exposure. Besides, paints help to reduce negative effects.
When you research paint for plumbing PVC pipes, you will discover acrylic paints. Acrylic paints are water-based chemically made colors for professionals. But don't pick it for painting PVC. If you use oil-based paint, pick the glossy black because gloss black provides suitable performance for plastics. Check metallic black vs gloss black to decide which one you prefer most. We like both black colors.
Can I Spray Black on Plumbing Plastic Tubes?
You can spray PVC pipe in two ways. Instead, you can spray the paint or use a brush. You can choose to spray paint to apply coat fast on pipes. Here is the procedure to apply spray paint on plumbing plastic tubes.
1. Arrange Materials
In a basic PVC spray paint job, and you need different items to manage. We will include the items. Make sure you have all the tools before you start spraying. While spraying paint, you must practice wearing essential safety items. All these items are given below.
Spray Paint.
Acetone.
Large sandpaper.
Hand gloves.
Protective eyeglass.
Saw.
2. Preparation
The temperature often affects the painting. So, you should choose a low-humidity day for your painting project. The ideal temperature should be around 10 to 30 degrees Celsius. And choose a well-ventilated large area to work. If there is furniture, cover them with paper or newspaper. You should not paint in warm places because the Acetone is high-flammable.
3. Sand The PVC
Take 220-grit sandpaper and rub the pipe's exterior. Rub the sandpaper in all directions to avoid straight-line spots that can create an unwanted grooved surface. Rub one end to another to achieve a uniform finish. You should not over-sand the plastic tube because it can result from inconsistent thickness.
4. Apply Acetone
Take a clean rag, put Acetone on it, and wipe the sanded pipe. A small amount of Acetone is enough to do this. It helps to clean sanding dust and prepare PVS for painting. After wiping, let it dry for 30 minutes.
5. Cover the Surrounding
If you haven't covered furniture, walls, or floors, cover them with some old paper or newspaper. If you paint long pieces, covering is fundamental. Smaller pieces of PVC may not require support, making it easier to get an all-over coat of paint.
6. Apply Multiple Coat
Take the spray paint and slowly spray it into the plastic tube in a sweeping motion. Spray through the pipe from top to down. Also, apply paint at the edge of the pipe. Spray multiple coats until you get your desired depth of the color. You must spray a minimum of two coats of black paint. 
If you want to know how to clear coat your car, then click here.
What Not to Use Painting Plumbing Plastic Tubes
There are different types of colors available for different surfaces. We have already said what types of paint you should use. Now, we will tell you what kind of paints you should avoid while painting PVC. 
Latex-based paints.
Water-based paints.
Acrylic-based paints.
These paints are not recommended plastic. If you don't know which paint is latex or water-based, choose the recommended paints for plastic. You will find the consistency of the paint on the label.
FAQs
Can PVC be affected by black paints?
There are some specific paints designed for PVC. They won't affect PVC. If you spray paint on plastic tubes that are incompatible with PVC, you may encounter critical results.
Does Plumbing Plastic Tubes require a primer?
Not every PVC painting project requires PVC primer. If you use it, then it will help you to ensure a leak-free painting. The PVC primer is fundamental for joining PVC-U and PVC-M pipes.
Can I hide plastic tubes by painting them black?
You cannot hide them, but you can give them a good space in your home décor. That's why you need to paint them. That is why you should paint plastic tubes to match the decoration of the house.
What is the best primer for PVC?
You can choose any primer explicitly formulated for plastic. Our choice is Sherwin Williams' Extreme primer. It will hold paint better than other primers. 
Final Word
Picking paint for PVC is an important decision. A painter can be an expert or a beginner, but he should not make any mess while painting pipes. You can paint black on plumbing plastic tubes if the paint is designed for plastic. There are a lot of factors to be kept in mind before picking the best plastic paint. 
We have also included our best choices for you. We hope you will satisfy if you use them.
I've been a painter for over 15 years, and I started this website to share my knowledge and passion for painting with others. Throughout my artistic journey, I have immersed myself in various mediums, techniques, and styles, continuously exploring new avenues of expression. Immerse yourself in the world of art as I guide you on an exploration of creativity, self-expression, and the limitless possibilities of painting.