Everyone is not naturally blessed with strong nails. So, someone needs to bless their long nails with acrylic magic. Since you make your nail strong with acrylic, it is time to make them beautiful with paint or nail polish. Now, tell me, who does not show off their charming nails? But many readers ask, "Can I paint over acrylic nails?"
Another big question is, "Is it safe to paint over acrylic nails?" In this article, we help you to paint over acrylic paints. Are you wondering about changing your acrylic nail color for a new date or a friend's wedding? Don't worry; we will help you to repaint your acrylic nail.
Table of Contents
Why Do You Need to paint over Acrylic Nails?
There is no specific reason to paint on acrylic nails. There are a variety of reasons to paint acrylic nails. Generally, people apply paint on their nails on special occasions. If you already have paint on the nail, you may need to change it. Typically, one paint feels bored for a long time.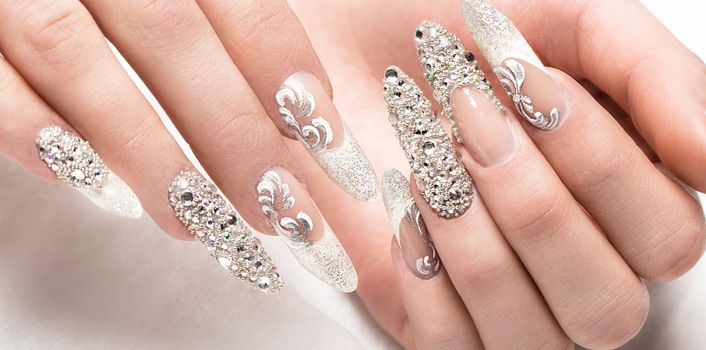 From what we have realized, no nail color has held the interest of any of our clients for more than three weeks. So, whenever you feel the importance of painting your acrylic nail with vibrant colors. Some get bored having one color for a week. If you are a girl for whom grooming is essential, this will make you think. 
You may think about changing your nail color during a party day, a wedding occasion, or an annual function. A significant event will rush you to change the nail color. You don't need to worry until you use an acrylic nail. You can apply new paint on an acrylic nail or replace the acrylic nail with a new outfit set.
Is It Safe to Paint Over Acrylic Nails?
Acrylic nails are a mix of powder and liquid monomers that easily create a strong nail shape. You can paint it again and again as many times as you want. Painting over acrylic nails has no bad side until you follow the proper procedure. The painting procedure depends on preparation, paint quality, and many other things. How?
Bad-quality paint can damage the acrylic nail. However, you cannot follow the same procedure as regular nail polishing. Yeah, it may sound hard because applying polish over regular nails is an easy task. Even a little kid can do that. Nothing to worry about with your acrylic nails. You can paint over acrylic nails at home. It is fun to do.
How to Paint Over My Acrylic Nails?
Beautiful painting on acrylic nails shows your aesthetic sense. You can make great art if you know how to draw on it. But the problem is, no one keeps color on the acrylic nail for long. However, we do not decide which paint you apply. It's all about your choice and personality.
Let's teach you how to repaint over acrylic nails. Before getting started, arrange all necessary items and set your workspace properly so that you do not need to look for other things while you have started.
What You Need
A clean surface.
Mild soap and water.
Nail polish remover.
A towel.
Your favorite nail polish.
Top coat and base coat for acrylic and nail polish.
If you are in a hurry, you can take a drying spray for nail polish. Otherwise, no optional item is required.
Remove Old Nail Polish 
You cannot paint over old nail polish. It will thicken the layer of paint. You need to maintain a certain quality of the new polish. Use a non-acetone paint remover to remove the oil polish from the acrylic nail. 
Clean Your Hand and Nails
Do you know that keeping hand and acrylic nails clean is very important before repainting nails? It helps to avoid nail infections. The paints and paint removers or even acrylic nails are made of chemicals. Chemicals are not safe for our skin. So, we have to be careful and neat and clean.
Apply Top and Base Coat on acrylic Nails
Sometimes you may notice some unwanted reactions on acrylic nails. To prevent any bad reaction, apply the top and base coat on the nail. Or you can apply two layers of base coat over the acrylic nail. Make sure you buy acrylic compatible base coat while shopping for acrylic nails. Not only base coats but the nail polish should also be acrylic compatible.
Apply Paint on the Acrylic Nail
Apply the nail polish on the acrylic nails after drying the base coat. We like to apply at least two coats of lacquer nail polish. One coat of nail polish is enough if you don't want it to last long. Some readers ask us, "Can you use regular nail polish on acrylic nails?" if the regular nail polish you used is acrylic compatible, then nothing to worry about.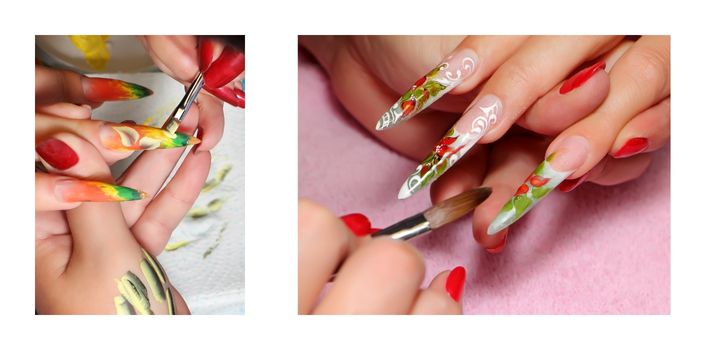 However, you need to apply a top coat over the acrylic nail. Before that, make sure that the nail polish is appropriately dried. Do you want to use acrylic paint on the acrylic nail? Acrylic paint is suitable paint for any type of use. But one condition; it must be toxic-free color.
Apply A Final Top Coat 
You must protect the nail polish and make it smooth to reduce further damage. Apply at least one layer of coat over the paint to minimize cracks. This coat will make your nail more eye-catchy. This top coat provides a shiny effect on the acrylic nail. It will seal the entire paint.
Do You Need Gel Polish on Acrylic Nails?
Gel polish is safe to use on acrylic nails. Most gel polishes are acrylic nail compatible. So, "Can you paint over acrylic nails with gel polish?" No need to worry about the answer. If gel polish is your favorite, you can go with it. The main reason behind choosing gel polish over regular nail polish is its long shelf life.
FAQs
How many times can I repaint acrylic nails without damaging them?
Acrylic nails can be repainted multiple times without causing damage, as long as you follow the proper procedure and use high-quality paint. However, make sure to remove the old nail polish before applying a new coat.
Can I use regular nail polish on acrylic nails?
Yes, you can use regular nail polish on acrylic nails if the regular polish is acrylic compatible. Ensure that the nail polish and base coat are acrylic compatible to achieve the best results and prevent any unwanted reactions on the acrylic nails.
Is gel polish safe to use on acrylic nails?
Gel polish is safe and suitable for use on acrylic nails, as most gel polishes are acrylic nail compatible. If you prefer gel polish for its long shelf life, it is a great option to paint over acrylic nails and maintain their stylish appearance for an extended period.
Final Verdict
We end by answering, "Can you paint over acrylic nails?" After getting an acrylic nail from a professional, you can repaint it as much as possible. Make sure you buy the best possible items to paint acrylic nails.
Whenever you go with acrylic nails, you will have unlimited options. However, regular care will keep your acrylic nail stylish for a long time. We have already explained what to do and what not.
I've been a painter for over 15 years, and I started this website to share my knowledge and passion for painting with others. Throughout my artistic journey, I have immersed myself in various mediums, techniques, and styles, continuously exploring new avenues of expression. Immerse yourself in the world of art as I guide you on an exploration of creativity, self-expression, and the limitless possibilities of painting.