We use paint to protect a surface, color it and give it a different texture. We choose different types of paint as well as how it looks after applying. That look is called "Paint Finish". There are different types of paint finishes like chrome, semi-gloss, glossy, metallic, etc. The two main types are glossy and matte. So, our question to you is, do you want to draw a glow effect?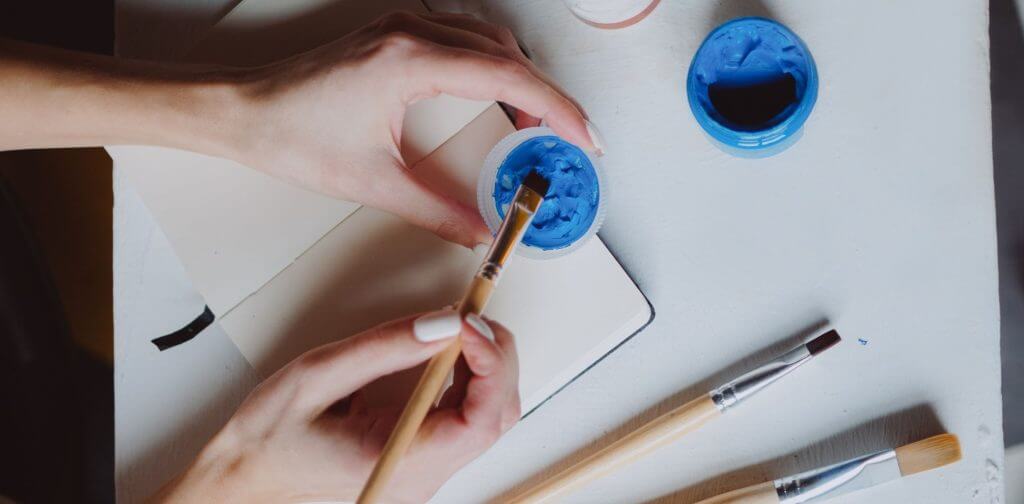 You may hear about acrylic paints, considered the most professional among all types of paints. Acrylic paint comes in both glossy and matte styles.
In this article, we want to show you how to paint a glow effect with acrylic. If you are interested, then come with us. Oh, sorry. You are already interested, and that's why you are here.
Table of Contents
What Is Acrylic Paint? 
If you are new to this world of painting, you may not have enough knowledge about acrylic paint. So, before starting the main process, we want to give you some brief but essential information about acrylic paint. 
Acrylic paint is a water-based color that combines the properties of oil very effectively. It combines water-based formula, pigment, and acrylic resin. These three properties make it more professional than other paints on the market. It's a great alternative to oil paint on canvas that is more professional, easy to use, and also affordable.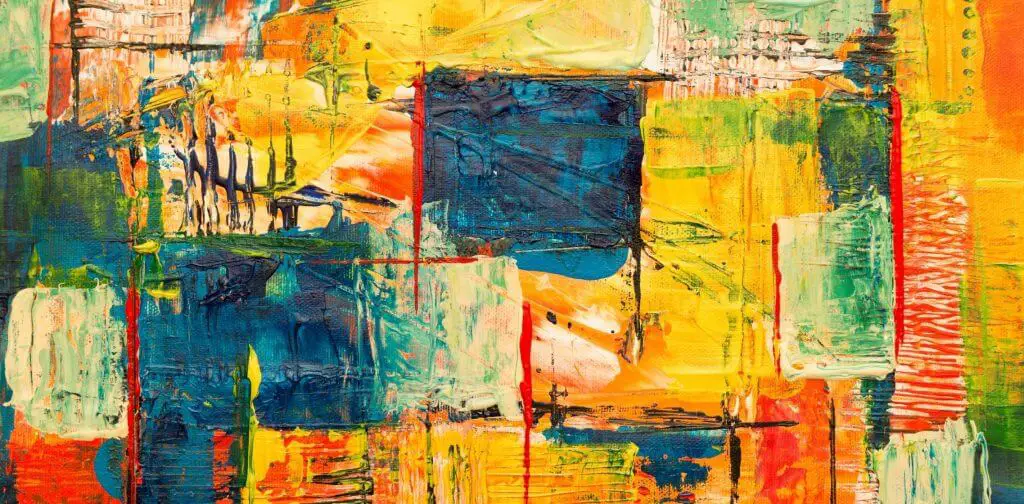 Click here to know more about the three properties. Though versatile paint is rare, we can consider it versatile because it has two different grades for students, beginners, and professionals. Now, we will tell you how to paint the glow effect with acrylic paint. If you have been finding this solution, then get ready. Here the engine starts.
How to Make Glow Effect with Acrylic Paint
The glow effect is no big deal on a computer project. We have some heavy graphical software to make a glow effect over any design. But creating a glow effect with acrylic paint in real life needs some practice. As a beginner, you must collect the necessary tools and paints to do the job and be good at blending. Blending is the key factor in creating the glow effect.
Now, we will tell you how to make a magical glowing effect with acrylic.
Step 1: Materials
In the first step, you need to arrange materials. Here is the list of materials we need –
A cup of water.
Some neon and bright color acrylic paint with a natural transparency.
Some acrylic paint brushes.
Some heavy body acrylic paints.
Fluid acrylic paint (Optional)
A canvas.
You can choose any brand for neon or bright colors. For heavy acrylic paint, we recommend Liquitex Professional Fluid acrylic medium. You will get it from Amazon or any local paint store. All paintings here are student-grade paint because you are a beginner.
Step 2: Preparing Color Palette
The next important thing is to prepare the color palette. Arrange your color palette based on the image you want to draw. You need to choose the paint carefully. We have already told you the name of the best brand of acrylics. Now, it's your time to pick a color. Let's see how you choose the right acrylic color for drawing a magical glow.
Step 3: Paint A Picture
Take your canvas and draw something you like. Make sure the drawing should be looked cool while glowing. So, use your creativity and paint using acrylic paints. You can draw a flame, candle, mushroom, and underwater scenario. 
Step 4: Apply White Acrylic Paint
Add white acrylic paint from the top of the cane part of the drawing. We have the zinc white. Apply it to the part where you want to make a glow effect. Don't go harsh. Apply a light white touch with the tip of the brush. It is a layering process with one layer of zinc white. Let it dry completely after finishing the layer. It should be looked like creating an outline.
You have to make this zinc white layer as much as white to create a magical glow.
Step 5: Add Color over Zinc White
Let the zinc white dry and wait 10 to 15 minutes until it will cure properly. Since we are using acrylic paints, we don't need to wait a long. If zinc white is completely dry, take any color you want to use for a glowing effect. Choose a brighter color that we have chosen, the neon acrylic paints. Apply the glaze of the neon color over and over.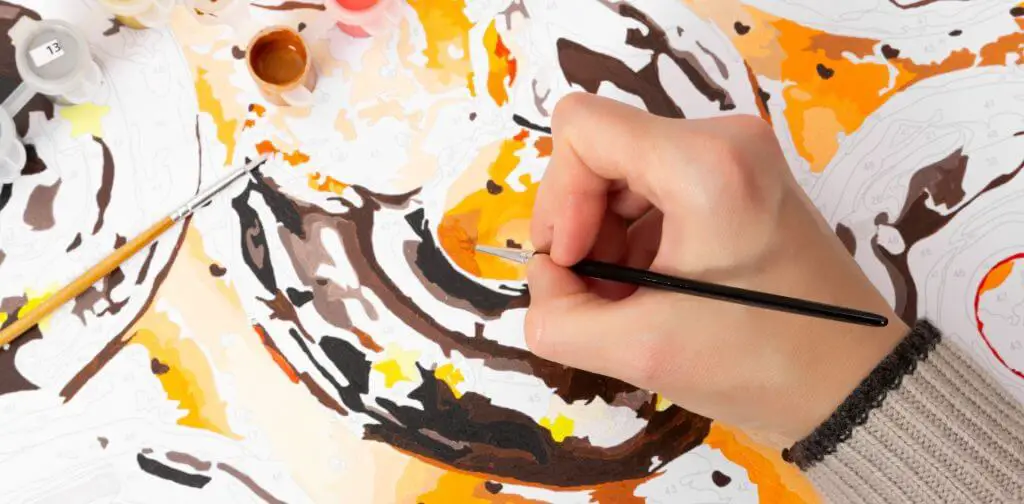 It is a kind of blending. You must be strong and creative in this case. Apply different colors in the other parts of the drawing over zinc white.
Step 6: Maintain a White Stroke
You have to maintain a white stroke in your paint. Then apply brighter colors as you want in the middle and corner of the image without disturbing the white stroke until you get your desired glowing effect.
Step 7: Darken The Outer Areas
To make your picture more glowing, darken the outer areas of the canvas with a dark color. This will highlight your image with a better glow. Adding this dark will make your neon color more prominent.
Step 8: Final Touch
Finally, re-examine the painting for the end. If there are any drawings left, complete them. Remember that the more neon you paint, the brighter your paint will look. Now, it's up to you how much glow you want.
Here we discuss how to make hammered paint easily. Hammered paint has an exceptional brilliance. You can try that paint for home décor.
FAQs
What makes luminous paint glow?
Luminous paints glow for UV rays. They absorb UV rays and reflect light as a form of energy.
Does acrylic paint glow in the dark?
Yes. Two paints glow in the dark, water-based paint and acrylic paint. Acrylic itself is a water-based paint also —both glow-in-dark paints.
Why is my glow-in-the-dark paint not glowing?
You have to make sure the painting is under proper light condition. The closer the power of light is, the more direct and consistent the object will be and the better it will shine.
Final Verdict
It would be best to have enough blending ideas to learn how to paint a glow effect with acrylic. This guide provides you with a complete painting procedure. You will have no budget constraints because we didn't recommend any expensive acrylic paint. All of them are student grades.
You can also check our paint mixing article to know the ratio of automotive paints if you have time to read the article for your car. It will also save some extra money from the paint repair shop.
I've been a painter for over 15 years, and I started this website to share my knowledge and passion for painting with others. Throughout my artistic journey, I have immersed myself in various mediums, techniques, and styles, continuously exploring new avenues of expression. Immerse yourself in the world of art as I guide you on an exploration of creativity, self-expression, and the limitless possibilities of painting.