Day by day, spray paint is increasing as it is fast and effective. You just need a spray gun and press the trigger. It will make your workpiece beautiful in minutes. But as we know, a single application on a surface is not enough. This is why a big question arises: "How long does it take for spray paint to dry?"
Many of our clients ask us about this. They weren't sure how long they had to wait between applying each coat of spray paint. In time, we found this to be a big problem. People need answers, and many are aware of this. So, this article will be helpful for those who want to know how long spray paint takes to dry.
Table of Contents
Why Does Spray Paint Become So Popular?
The most common technique to apply paint is using a brush stroke. Moreover, painters use brush rollers to paint walls. None of these is easy to use than spray paint with a spray gun. Spray paint is a quick painting material that anyone can apply quickly. That gives spray paint massive popularity.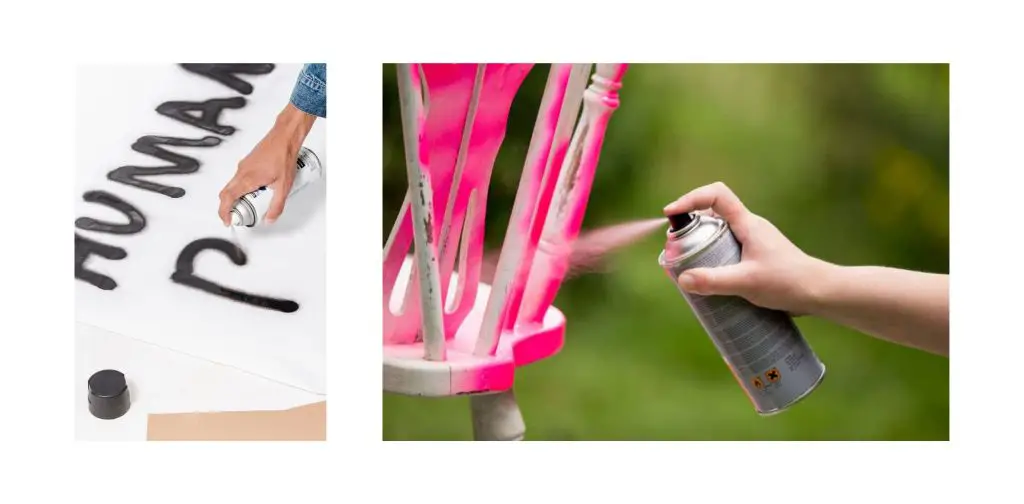 Rebels, protestors, and graffiti artists love spray paint because it is easy to use in one word. It is also easy to steal and hide. It dries quickly depending on the environment and material. It provides excellent coverage. And it is 100 times faster than brush strokes. 
It is also a durable choice among professional painters. When it is time to do fast-phase work, spray paints come in handy in every situation. Brands are producing tons of vehicles in a year. It was quite impossible if they applied a brush to paint over them. So, spray paints are more popular in the vehicle industry than in regular painting areas. 
How Does Spray Paint Work?
Whether you use spray paint in your life or not, you must see how to use it in real life or in commercial movies. Everyone has watched in the movie how kids used aerosol spray paint to create graffiti art to illustrate a new product range. These paints are placed inside a can. These cans are made of lightweight aluminum, so they cannot annoy you during spraying. 
The spray paint cans are generally filled with spray paint. But without pressure, how do paints come out? That's why makers use hydrofluorocarbon to pressurize cans. The button you press is normally connected to a valve and tube inside the can. When you press it, the tube reaches the bottom. Then the valve will open, and air enters inside the can.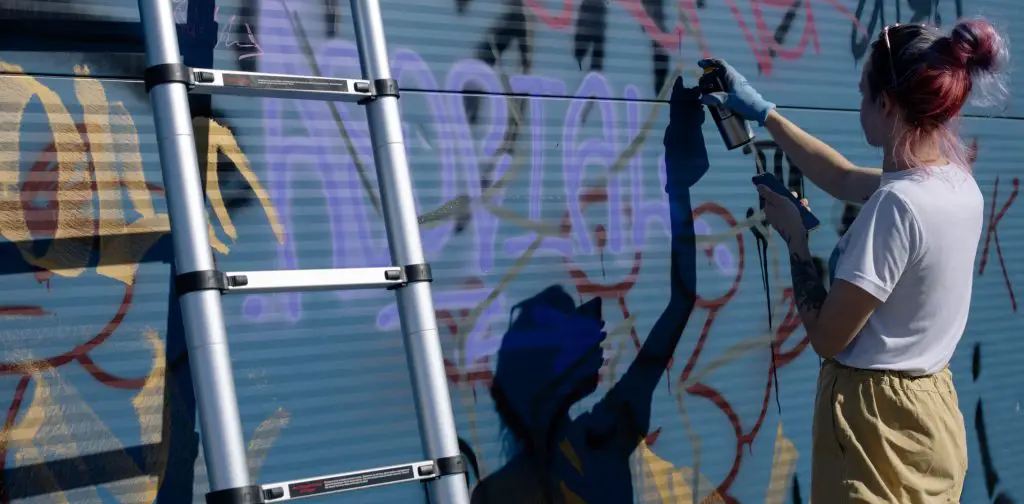 Finally, hydrofluorocarbon forces paint to come out tough the nozzle. This nozzle has a small hole that turns the paint into a fine mist sprayed on your work surface. But it is not only can; there are also different ways to apply spray paints. Different devices are used to do it. Spray paint cans are common among them. 
Here are some best spray paints to help you choose a perfect match for your workpiece.
How to Apply Spray Paint?
You can use three devices to apply spray paint on a metal surface. They are –
Spray Gun: It is a controllable device. You can use different tips to spray in a different pattern. It gives you full control over how you want to spray.
Aerosol Cans: It is also known as airbrush, invented in 1927. This device helped you to spray paint from more detailed work like fine arts. Brush paints are suitable for fine arts, but you can use aerosol cans or airbrushes for faster work.
Pressure Spray Paint Can: This spray paint can is enough to give a new look to your old furniture. It is available in several finishes for different tasks. 
How Long Does Spray Paint Take to Dry?
Since you can apply spray paint on almost all surfaces, the drying time will vary from surface to surface. Moreover, there are four different drying versions also. Every version requires a different drying time.
Surface dry.
Hard dry.
Touch dry.
Thorough dry.
Surface dry is a condition where your paint feels sticky. This condition is ok to apply the next coat on the surface. It will take fingerprints when the paint is in hard, dry condition. After through dry, the surface is ready to use. If you check the back of the spray can, you may notice the first dry option within 15-20 minutes. It depends on the brand.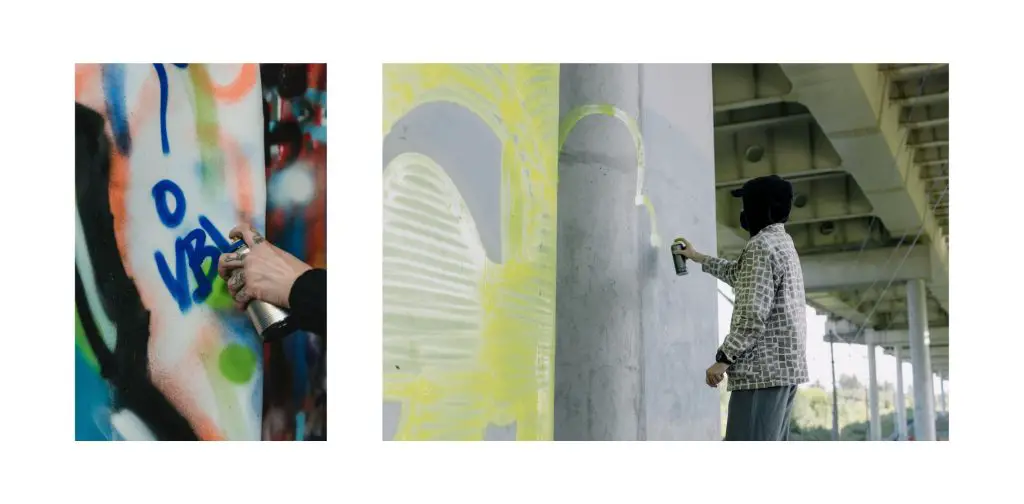 These are the different dry conditions of spray paint. These dry conditions just allow you to apply the next coat. Some spray paints take 10 minutes less to dry and become ready for the next coat. All these things help measure how long it takes to paint a car with spray paint.
But the big question is, "How long should you leave spray paint to completely dry?" It depends on several factors. Generally, spray paint can take 8 to 24 hours to completely dry based on different condition, paints type and painting surfaces.
How Long for Spray Paint to Dry for Different Types? 
There are more than five types of spray paint available in the market. Drying time is different based on each type of surface. Here, we show how many types of spray paint are available and how long it takes for spray paint to dry.
Latex Spray Paint
Latex spray paints are water-based paints. So, sometimes it dries very quickly, and sometimes it takes time. If you want to add another coat, you must wait at least 4 hours.
Oil-Based Spray Paint
Oil-based paints always take more time to dry. If you want to coat on it, we suggest waiting at least one day. It takes around thirty minutes to reach in touch dry condition. You can check the answer, "Why oil painting takes a long time to dry?"
Enamel Spray Paint
The dry time of enamel spray paint is around 8 hours to reach through dry. But you can reach in touch dry within 30-35 minutes.
Epoxy Spray Paint
Epoxy spray paint will take your full day to dry completely. Depending on the surface and environmental conditions, you can apply a new coat after 2 to 4 hours.
Acrylic Spray Paint
Acrylic Spray paint dries to the surface within 10 minutes. Since it is a water-based paint, it dries fast. But dry time can rise up to 30 minutes based on different situations.
FAQs
How Long Does It Take Spray Paint To Dry?
Generally, spray paint can take 8 to 24 hours to completely dry based on different conditions, paint type and painting surfaces. The drying time of a spray paint varies from surface to surface.
How Long Does It Take Different Paint Types To Dry?
There are various types of spray paint available in the market, and the drying time can vary depending on the surface and paint type.
Latex Spray Paint: It typically takes at least 4 hours to dry. If you plan to apply another coat, it's recommended to wait 4 hours before doing so.
Oil-Based Spray Paint: This type of paint takes longer to dry as it is oil-based. It is suggested to wait at least one day before applying additional coats. However, it usually reaches a touch-dry condition within 30-35 minutes.
Enamel Spray Paint: It takes around 8 hours to fully dry. However, you can usually achieve a touch-dry state within 30-35 minutes.
Final Verdict
Without a doubt, spray paint is the fastest form of painting. You can apply it on different surfaces. Although the drying time of spray paint is relative, you can apply a second coat within half an hour regardless of the oil type of spray paint.
If you leave it on, it will dry completely within 24 hours. Moreover, there are different techniques for drying spray paint faster. We will discuss this another day. Hopefully, you now know how long does it take for spray paint to dry. If you find this article helpful, share it with your friends who need such information.
I've been a painter for over 15 years, and I started this website to share my knowledge and passion for painting with others. Throughout my artistic journey, I have immersed myself in various mediums, techniques, and styles, continuously exploring new avenues of expression. Immerse yourself in the world of art as I guide you on an exploration of creativity, self-expression, and the limitless possibilities of painting.